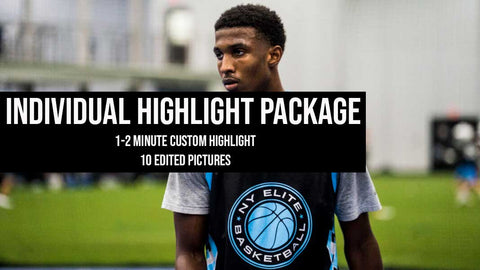 Individual Highlight Video
-Player Introduction/Ending Information

-Copyright Free Background Music Provided
-Online Upload & Delivery
-HD Slow Motion
-Creative Style Editing
-10 Professionally edited photos
(All Highlights Are 1-2 Minutes in length - 1 Game Coverage) 
__________________________________________________________________________________________
*PLEASE SEND SEPARATE EMAIL TO OFFICIALCOLLEGELIFE@Gmail.com Including:
-Player Name
-Player #
-Position
-Class (Ex: C/O 2027)
-Team Name
-Coach Name
-Contact Phone Number
-Tournament Date
-Order Conformation #
(You will be contacted 12-48 hours after purchase by a member of College Life's staff)
__________________________________________________________________________________________
*Disclaimer & Refund Policy*
We strive to create the highest quality highlight for every one of our clients. Extreme care and time is put into each and every highlight video. Some variables are unpredictable such as how many points are scored, if a player fouls out, etc. By choosing our service you are choosing to trust our video editors and directors that we will provide the highest quality production possible. 
Once you have made your purchase and your game time is selected there is a no-refund policy. We have limited space available for each and every tournament and every time slot is accounted for by a another player. 
Please feel free to email us at OfficialCollegeLife@gmail.com or give us a call at 717-379-2799 for more information.
---
We Also Recommend
---